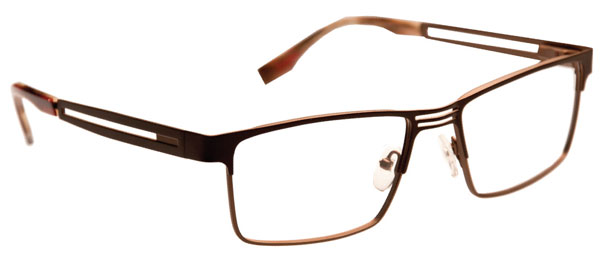 Armourx 8001 Titanium Brown - Safety Glasses
Armourx Safety Frames | 8001
Safety Glasses Price
US
$112
$56
Frame Size
Available Sizes
---





---
ARMOURX 8001 TITANIUM BROWN
The ArmouRx 8001 safety glasses is a rectangular, Titanium Brown frame. It is accessible in removable or perpetual side shields. It is ANSI Z87 Safety Approved. ArmouRx 8001 safety frames are extraordinary for people. The standard ANSI Z87.1 frames join both toughness and adaptability, with spring-helped pivots and removable side shields to more readily suit your requirements. The ArmouRx 8001 safety prescription glasses are accessible in different sizes. With assistance of an optician, see all the more obviously when you request your ArmouRx 8001 safety prescription lenses online today! 

The Titanium collection offers in vogue styles and interesting plans, with the presentation and strength of safety eyewear. A striking and stylish assortment made for the design cognizant. Thinking outside-the-manufacturing plants and onto the style roads. Armourx is a pioneer in the safety eyewear industry, offering safety frames that join quality, safety and style forward plan. 
HIGHLIGHTS

ArmouRx 8001 Titanium Brown is accessible in your prescription in a safe, polycarbonate lens 

Single Vision, Lined Bifocal and Progressive lenses Available 

ArmouRx 8001 safety frame is Ensured Z87.1 Safety Frame and Lenses 

Producer: ArmouRx 

Assortment: Titanium 

Model: ArmouRx 8001 Titanium

Style: Mixed

Material: Cellulose Acetate 

Side Shields: Removable or Permanent 

Sex: Unisex 

Shadings: Brown 

Action: Business, Construction, Engineering, Industrial, Manufacturing, Computer, Driving, Reading
ArmouRx 8001 prescription safety glasses adopt an ideal strategy for form and safety. The ArmouRx 8001 safety prescription glasses highlight a work of art, spotless and straightforward look with its acetate assembly and rectangular shape. These ArmouRx glasses come outfitted with removable side shields, making for an astoundingly versatile pair of prescription glasses. In the event that you need one set of prescription glasses that can do it all, you can't turn out badly with a couple of ArmouRx 8001 safety glasses.