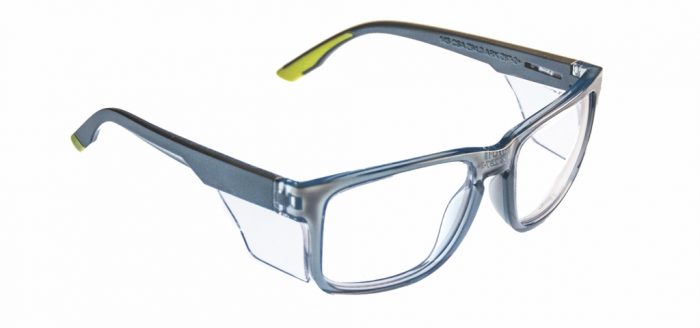 Armourx 7501 Classic Grey - Safety Glasses
Armourx Safety Frames | 7501
Safety Glasses Price
US
$89.98
$59.98
Frame Size
Available Sizes
---





---
ARMOURX 7501 CLASSIC - BUILD IN SIDE SHIELD

ArmouRx 7501 safety glasses is another casing that is prepared to take on your bustling day. Including incorporated side shields for extreme insurance, these eyeglasses have your eyes and back covered. They're additionally ANSI Z87.1 and CSA Z94.3 consistent. ArmouRx 7501 prescription safety glasses add much greater adaptability to your choice while picking your safety glasses. ArmouRx 7501 safety frames is ideal for any age gathering, this exemplary CSA and ANSI affirmed outline with coordinated side shield insurance consolidates present day craftsmanship of solace and sturdiness with immortal plan, giving it an elegant and cleaned finish. ArmouRx 7501 safety prescription glasses has case and cleaning material are incorporated. The classic collection consolidates the craftsmanship of solace and sturdiness with ageless plans. Current shapes meet exemplary plans, giving an elegant and cleaned wrap up, commending any age gathering. 
HIGHLIGHTS

• Movement : Construction, Engineering, Industrial, Manufacturing, Computer, Driving, Reading 
• Face Shape: Heart, Oval, Round 
• Lens Type: Bifocal, Progressive, Single Vision 
• Casing Feature: Side Shields, Lightweight 
• Casing Color : Grey 
• Gneder: Mens, Womens 
• Model: ArmouRx 7501 Classic
• Item Type: Eyeglasses 
• Casing Material: Plastic 
• Casing Shape: Square shape 
• Edge: Full Rim
• Accessible in your prescription in a safe, polycarbonate lens 
• Single Vision, Lined Bifocal and Progressive lenses Available 
• ArmouRx 7501 safety frames has Confirmed Z87.1 Safety Frame and Lenses 
• ArmouRx 7501 safety glasses has TD2 Scratch Protection available 
In the present serious world ArmouRx Safety glasses may have the effect when you are going toward others for that incredible work or perhaps hoping to pull in that uncommon young lady or fellow's consideration. Get the look you need to stop people in their tracks, at the best costs anyplace with ArmouRx Safety Eyewear from Safetylensusa.com. A first among the safety eyewear industry, the Armourx Collection consolidates style also, exceptional plans for safety eyewear in the working environment. Armourx was created by one of Canada's driving eyewear organizations. With a broad foundation in making eyewear that is style forward and high in quality craftsmanship, the Armourx Collection is both smart and practical. Each edge gives normalized eye-insurance to the working environment. Look up-to-date and feel great in Armourx's individual assortments from Wrap-Rx and Metro to Classic and Basic.