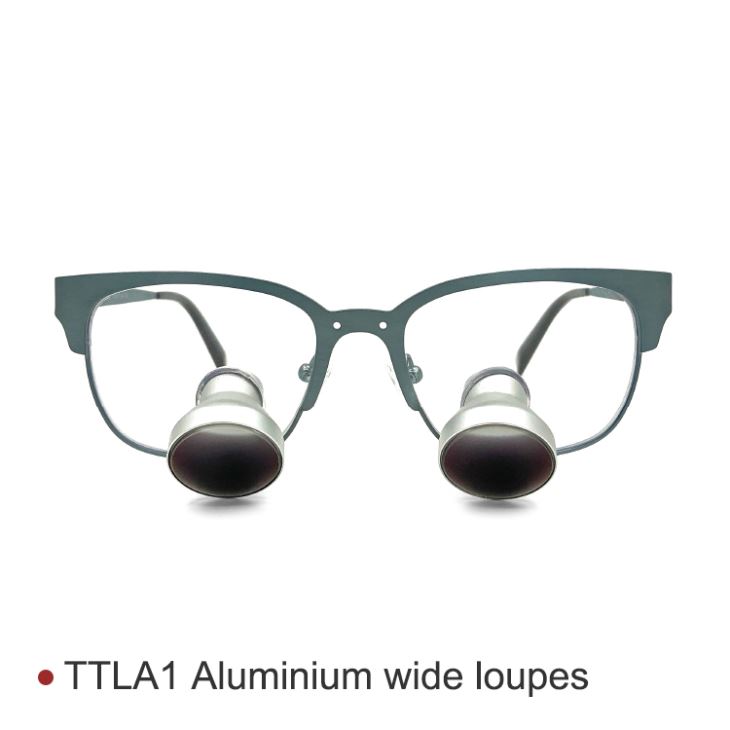 TTL A1 Dental Loupes
Specifications of surgical loupes
Working Distance : 18-20 inch
---
TTLA1 surgical loupes is the new mental barrel design slim bezel that provides a steep angle of inclination for improved ergonomics. The ultra-thin profile and brushed metal finish retain an aesthetically pleasing element for this custom TTL loupes.
Available in three magnifications from 2.5x to 3.5x.Ergonomically designed to protect the doctor's cervical spine and shoulders.
TTLA1 is made of a high-quality optical lens, coated with multi-layer anti-reflection film, It has high light transmittance and clear image with a large field of view.
TTL AR  is Lightweight design, elegant appearance, easy to operate and carry.
Specifications
Mounting Options: Through-the-Lens           
Magnification Power: 2.5x, 3.0x, 3.5x
Field Width:110-150 mm (2.5x) ,90-130 mm (3.0x) ,70-120 mm (3.5x)                  
Field Depth:110-190 mm (2.5x) ,75-170 mm (3.0x) ,65-160 mm (3.5x)
Working Distance: Customized to each user
Declination Angle: Customized to each user
Weight*:50.5g(2.5x & 3.0x), 51g(3.5x) 
Frame Options:
Sports frame: E-sport frame, D sport frame  TR frame: AM56276, AM54118