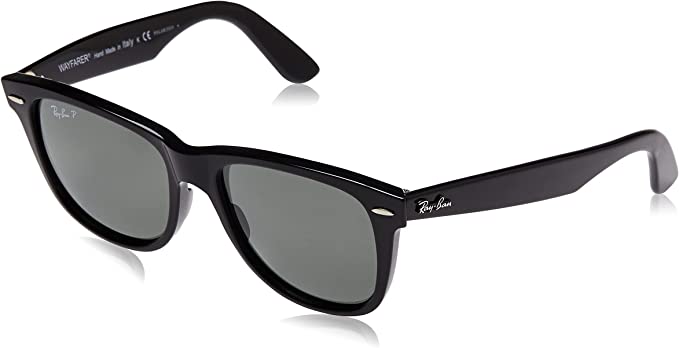 Ray Ban RB2140 Wayfarer - Sunglasses
Sunglasses Price
US
$190
$140
Frame Size
Available Sizes
---





---
Ray Ban RB2140 Wayfarer - Sunglasses
Ray-Ban RB2140 Original Wayfarer Classics are the most recognizable fashion in the records of sunglasses. As an iconic fashion of sunglasses, Original Wayfarer classics usually make a statement. Choose a traditional pair of black-framed Wayfarer sunglasses from quite a few lens remedies along with crystal inexperienced, crystal gray gradient, G-15 polarized, and more. Unique shadeation combos are implemented to the Ray-Ban Wayfarer sunglasses with the original Wayfarer color mix. Wayfarer RB2140 form is blended with vibrant statement-making colors, making sure you get noticed. Ray-Ban`s original Wayfarer color mix RB2140 sunglasses provide a unique and futuristic contact to the undying Wayfarer, letting you explicit your individualistic fashion despite one of the most famous and unmistakable sunglasses out there. Ray-Ban Original Wayfarer Color Mix sunglasses are designed for the greatest comfort, readability, and UV protection.
Additional Features
Brand: Ray-Ban Sunglasses RB2140 Wayfarer
Bridge Width: 22 mm
Lens Width: 50 mm
Temple Length: 150 mm
Type: Sunglasses
Style: Modern
Frame Color: Shiny Black
Sexual orientation: Unisex
Frame Material: Acetate (Plastic)
Lens Material: Polycarbonate
Treat yourself to this fantastic pair of sunglasses. One of many in a sublime line of glasses that can be clean to put on and appear genuinely stunning. Comfortable, sublime, and elegant all in one. 100 % UV protection. An extraordinarily on fashion pair of sunglasses and a steady success with the stars and style icons, the Ray-Ban Wayfarers return. This unisex fashion capability has a black acetate thick body with huge fingers incorporating the Ray-Ban logo. The lenses have a crystal inexperienced end and additionally show the logo. The Unisex Ray-Ban Sunglasses Wayfarer RB2140 is to be had to shop for from SafetylensUSA. Its capabilities a body that is black acetate and has a lens that is crystal inexperienced. The Wayfarer RB2140 comes with legitimate Ray-Ban Sunglasses.